From November 8 to 13, 2022
At the bookshop during Paris Photo
Our programme of events and signings
From November 8 to 13, delpire & co will be hosting a series of meetings, discussions and signings on the subject of photographic publishing at 13 rue de l'Abbaye. Artists, authors and publishers will meet the public. Free entry, subject to availability. Welcome!
The bookshop will be exceptionally open continuously from Tuesday November 8 to Sunday November 13, from 11 am to 7 pm, with extended hours on certain evenings.
See our programme below (subject to change).
Meeting: Rob Hornstra in conversation with François Hébel
Wednesday, November 9
6 pm
Presentation of the project "The Europeans 2020-2030", a collaboration between writer Arnold van Bruggen and photographer Rob Hornstra and presentation of their latest publications.
With the support of the Kingdom of the Netherlands.
↓
Launch: Vincen Beeckman, La Devinière
Thursday, November 10
6 pm
Published by delpire & co, La Devinière is an intimate and powerful narrative of the life inside the institutional psychotherapy centre of the same name founded in 1976 by Michel Hock as an alternative to the psychiatric hospital. Through his collaborative practice of photography, Vincen Beeckman invites us to meet the residents of La Devinière.
In partnership with PHOTO BRUT BXL and FoMu Antwerp.
Launch: Vincent Jendly, Lux In Tenebris
Thursday, November 10
6 pm
Evening dedicated to the latest publications of the Festival Images Vevey, with the launch of Lux In Tenebris by Vincent Jendly.
In partnership with Images Vevey.
Signatures of authors published by MACK Books
Friday, November 11
6-8 pm
The bookstore invites the English publisher MACK Books for a collective and festive presentation and signing session with many artists, including Carla Liesching, Jess T. Dugan, Gerry Johansson, Justine Kurland, Wendy Ewald, Stanley Wolukau-Wanambwa, D'Angelo Lovell Williams, Colby Deal, Mame-Diarra Niang, Aaron Schuman, Effie Paleologou, David Campany, Raymond Meeks, Ron Jude.
↓
Launch: Josef Koudelka, Ikonar
Saturday, November 12
9:30 am
delpire & co and Photo Elysée are pleased to invite you to the launch of the book IKONAR – Archival constellations by Josef Koudelka, published by Noir Sur Blanc and Spector Books on the occasion of the exhibition of the same name at Photo Elysée in Lausanne, from November 5, 2022 to January 29, 2023.
Presentation by Lars Willumeit and Stuart Alexander, followed by a breakfast.
In partnership with Photo Elysée.
Meeting with Aleix Plademunt
Saturday, November 12
6 pm
The artist will present his book Matter, published by Spector Books. Between personal narrative and scientific adventure, the "Matter" project analyzes the age-old question of existence, in search of our origin.
Signing: Matthieu Nicol, Better food for our fighting men
Saturday, November 12
6:30 pm
A "cookbook without recipes".
The iconographer and collector of culinary images had access to a recently declassified visual archive from the 1970s to the 1990s from a US Army research and development center responsible for developing rations for soldiers…
Launch: Thaddé Comar, How was your dream?
Saturday, November 12
7 pm
"How Was Your Dream?" is a documentary photography project made during the Hong Kong protests between June and October 2019. This work deals with new forms of protest and insurgency in our post-contemporary era dominated by societies of unflinching control.
A book by Mörel Books.
Exhibition: Qui êtes-vous Polly Maggoo ?
From November 3 to January 31
On the occasion of the publication of the film novel Qui êtes-vous Polly Maggoo ? by William Klein, delpire & co presents an exhibition of documents and photographs from the time of the filming.
As part of the Festival Photo Saint-Germain.
↓
Shortlist for the 2022 Paris Photo - Aperture Foundation Photobook Awards
The bookshop presents the vast majority of the books pre-selected for this year's Paris Photo – Aperture Foundation Photobook Awards, in four categories:
First Photobook Award (20 books in competition)
Photobook of the Year Award (10 books in competition)
Photography Catalogue of the Year Award (10 catalogues in competition)
Juror's Special Mention – Photobooks for Ukraine (6 books in competition)
↓
And at the Grand Palais Éphémère
We are at Paris Photo, stand SE16, from November 10 to 13 and are organising a series of meetings and signings with our authors.
↓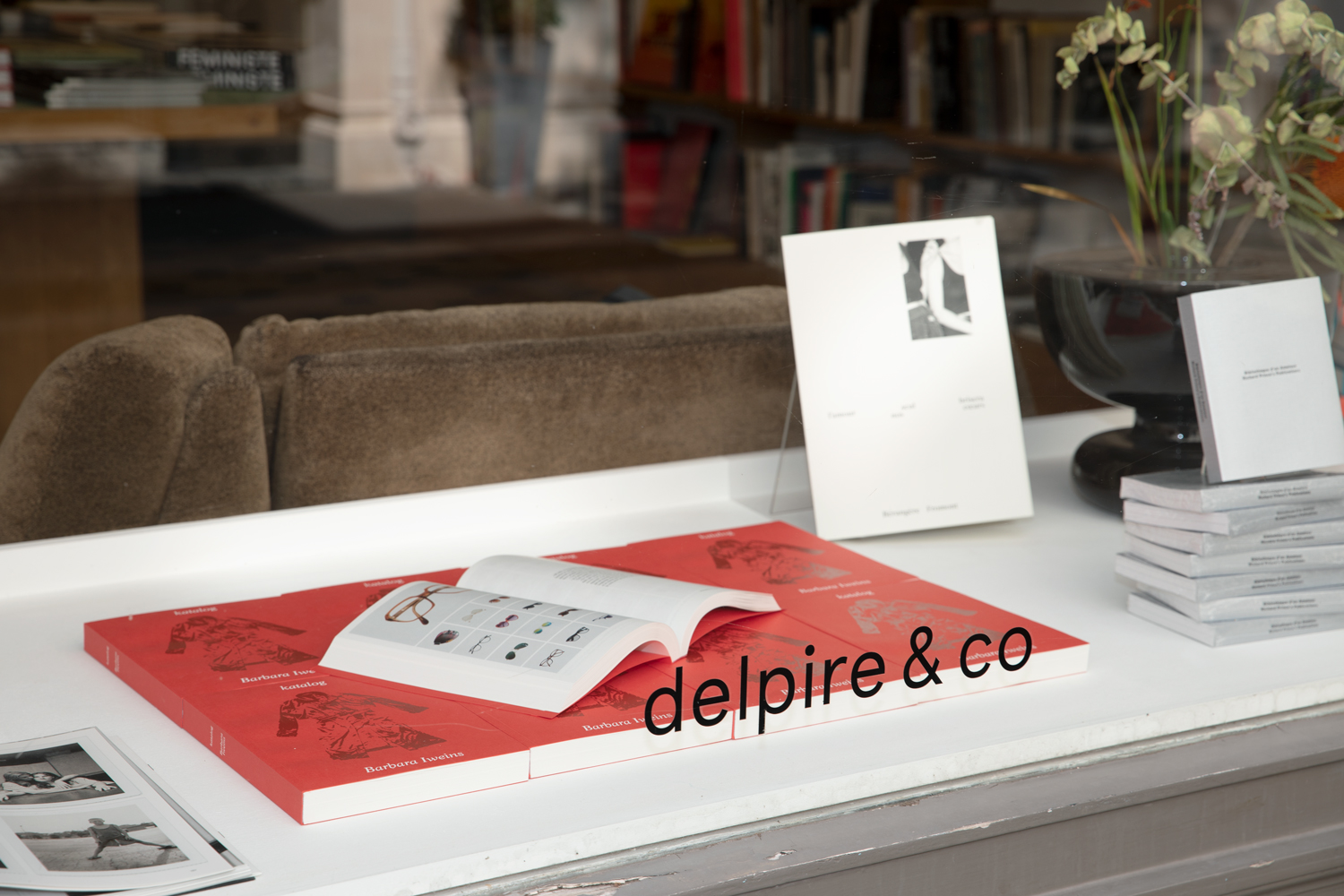 13-rue-abbaye-vitrine-09-2022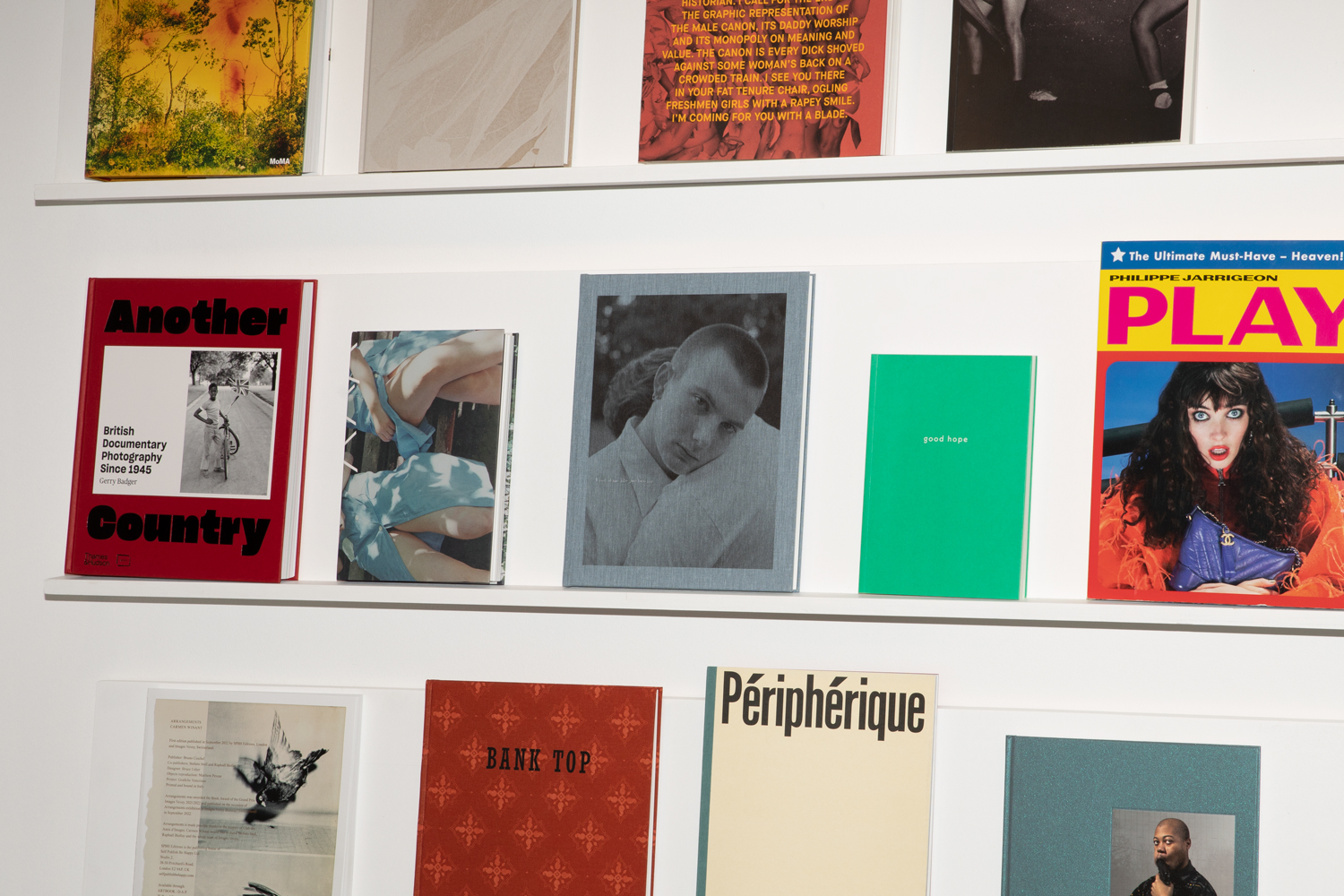 Paris Photo Aperture Foundation Photobook Awards 2022