Brassaï
Brassaï, pseudonym of Gyula Halász, 1899 – 1984 was a Hungarian–French photographer, sculptor, writer and filmmaker, one of the numerous Hungarian artists who flourished in Paris beginning between the world wars.
In 1924, he moved there and began teaching himself the French language by reading the works of Marcel Proust. Living among the gathering of young artists in the Montparnasse quarter, he took a job as a journalist. He soon became friends with the American writer Henry Miller, and the French writers Léon-Paul Fargue and Jacques Prévert.
He later wrote that he used photography "to capture the beauty of streets and gardens in the rain and fog, and to capture Paris by night." Using the name of his birthplace, Halász went by the pseudonym "Brassaï," which means "from Brasso."
Brassaï captured the essence of the city in his photographs, published as his first collection in the 1933 book entitled Paris de nuit (Paris by Night). His book gained great success, resulting in being called "the eye of Paris" in an essay by Henry Miller. In addition to photos of the seedier side of Paris, Brassai portrayed scenes from the life of the city's high society, its intellectuals, its ballet, and the grand operas. Brassai photographed many of his artist friends, including Salvador Dalí, Pablo Picasso, Henri Matisse, Alberto Giacometti, and several of the prominent writers of his time, such as Jean Genet and Henri Michaux.
In 1950, the young Robert Delpire approached the renowned photographer to ask him to contribute to the revue NEUF. His photographs appear in the first four issues and the fifth issue of NEUF (December 1951) is entirely dedicated to his work, with a text by Henry Miller.
Over 60 of his photographs were included in the 'Five French Photographers' exhibition at the Museum of Modern Art (MoMA) in New York City in 1951. His first one-man show was at the Art Institute of Chicago in 1954 and MoMA subsequently gave him major one-man shows in 1956 and 1968. He was presented at the Rencontres d'Arles festival in France in 1974 as Guest of Honour.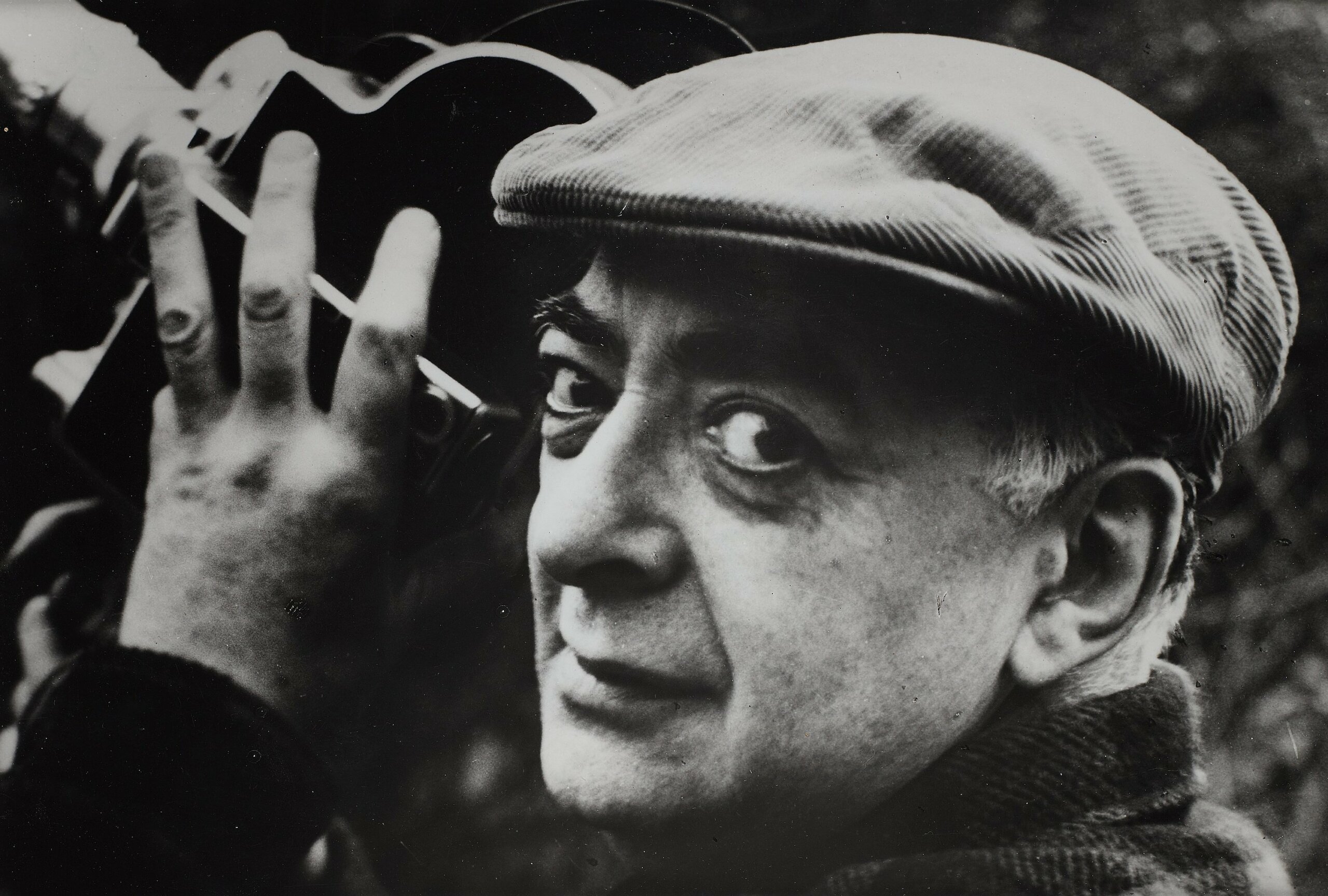 Portrait of Brassaï in 1955