Saul Steinberg
Saul Steinberg was born in Romania in 1914, to parents of Russian Jewish descent. In Bucharest Steinberg's father, Moritz, opened a printing and bookbinding shop. It was at his father's factory that Steinberg gained familiarity with such materials as colored and embossed papers, rubber stamps, and wooden movable type, all of which figure later in his art.
Steinberg studied sociology and psychology at the University of Bucharest and architecture in Milan. He soon became deeply engaged in drawing, contributing cartoons to Italian newspapers specializing in humor and satire. In the summer of 1942, he arrived in New York City, having already published drawings in the New Yorker, Mademoiselle, PM, and other periodicals. Steinberg was assigned to Naval Intelligence for the remainder of the war.
Through his wife Hedda Sterne, Steinberg met other émigré artists such as André Breton, Marcel Duchamp, and Piet Mondrian. He also formed enduring friendships with Alexander Calder, Ad Reinhardt, Mark Rothko, and the photographer Inge Morath among many others.
In 1945 All in Line, the first of seven books of drawings Steinberg produced during his career, was named a Book of the Month Club selection. In 1952 the Betty Parsons and Sidney Janis galleries mounted their first joint exhibition of his work, which gave rise to a series of exhibitions in the United States, South America, and Europe; they would continue to jointly present Steinberg exhibitions for the next 25 years. He exhibited regularly at Galerie Maeght in Paris.
Over the course of six decades Steinberg made more than 1,200 works for the New Yorker alone, as well as thousands of drawings and sculptures that were exhibited in galleries and museums worldwide. Other works included stage sets, photographs, and murals.
The most remarkable of the latter was the 240-foot mural The Americans, created for the United States Pavilion at the 1958 Brussels World's Fair. At the same time that Steinberg's mural was being featured, Robert Delpire selected a drawing by Steinberg to grace the cover of the book he published later that year by Robert Frank, Les Américains.
Steinberg died in 1999. Later, Delpire published a monograph in the Poche Illustrateur collection in 2008.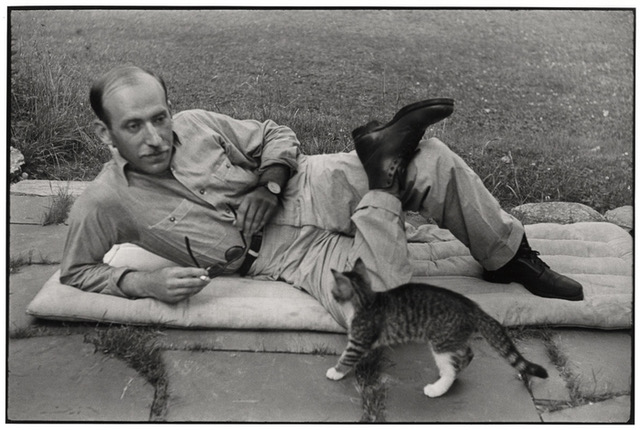 Saul Steinberg, Vermont, 1947 © Henri Cartier-Bresson / Magnum Photos courtesy Fondation HCB.